WATT PLASTIC SURGERY RECOGNIZED IN ALLERGAN TOP 250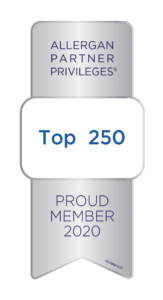 Watt Plastic Surgery recognized as one of Allergan's Top 250 list of providers in 2020. Allergan is one of the leading names in the production of aesthetic medical products. Each year, the team at Allergan observes aesthetic medicine practitioners who exhibit the highest level of excellence and skill throughout the country. In the Allergan Partner Privileges program, the Top 250 recognition is one of the most prestigious honors.
As one of Allergan's Top 250 providers, Watt Plastic Surgery ranks in the top one percent of all Allergan practices in the United States. Everyone at Watt is thrilled to have earned this distinction through our steadfast commitment to every client's needs. We are dedicated to providing the best possible results in your cosmetic treatment, including leading options from Allergan like Botox®, Kybella®, and the extensive line of Juvéderm® injections.
Our recognition in Allergan's Top 250 providers speaks to the quality and innovation of our product selection, as well as the expertise of our trained staff. Still, we couldn't have earned this honor without the continued patronage of our clients. From everyone at Watt Plastic Surgery, thank you for helping us reach this level of accomplishment by trusting us with your cosmetic goals.
We look forward to continued success in providing the highest quality of care and customer service in aesthetic medicine.